i haven't tried this, i saw it online today. looks good!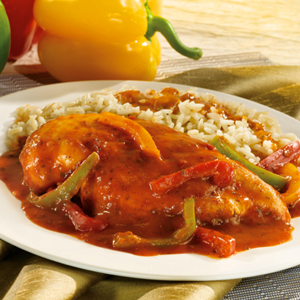 Makes: 4 servings
Prep: 5 minutes
Cook: 20 minutes
Ingredients:
Vegetable cooking spray
4 skinless, boneless chicken breasts halves (about 1 pound)
1 pkg. (about 14 ounces) frozen mixed pepper strips
1 carton (18.3 ounces) Campbell's® V8® Sweet Red Pepper Soup
Directions:
Spray a 10-inch skillet with the cooking spray and heat over medium-high heat for 1 minute. Add the chicken and cook for 10 minutes or until it's well browned on both sides.

Stir the peppers and soup in the skillet and heat to a boil. Reduce the heat to low. Cover and cook until the chicken is cooked through and the peppers are tender.
Nutrition Info
Calories 212, Total Fat 4g, Saturated Fat 1g, Cholesterol 69mg, Sodium 391mg, Total Carbohydrate 16g, Dietary Fiber 4g, Protein 27g
That is the nutritional info without the rice in the picture. If you do add rice to the dinner, make sure it is only about 1/4 cup cooked since the recipe already has 16 carbs.